Lease-to-own your next Hoshizaki ice machine or refrigerator!
Ice machine leasing, Ice maker/dispenser leasing. Lease-to-purchase programs at great pricing!

IceMachinesDirect.com is your source to buy or lease Hoshizaki Commercial Ice Machines and Reach-In Refrigeration.
"We're On-Line…but it feels like we are On-Site."  Allow us to use our 20 plus years of experience to help you select the right ice machine for your home or business.  
Call for the Best Price: 1-888-434-5316
Hoshizaki Ice Machines and Refrigeration units are IN STOCK and can ship the same or next day you order!
Featured Products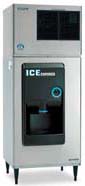 Attention: Hotel Owners!
Hoshizaki – Model# KML-250MAH / DB-200H hotel ice maker & dispenser. Produces up to 325 lbs. per day and stores 130 lbs.
Purchase for $4,925.00
Price Includes Shipping
Attention: Restaurant Owners!
Hoshizaki – Model# CR2S-FS Two Door Refrigerator.  All Stainless Steel – inside and out.  Ducted air flow, Top Mount Refrigeration, and 3 year bumper to bumper warranty, 5 year compressor.  MADE IN THE USA!
Purchase for $2879.00
Price Includes Free Shipping and Lift Gate